Amis des Nuits Musicales d'Uzès
Created in 2006, Les Amis des Nuits Musicales d'Uzès (Friends of the Nuits Musicales d'Uzès) is a non-profit general interest association under the Law of 1901. The generous donations and patronage of this association have helped to promote and develop the Nuits Musicale d'Uzès.
The association Les Amis des Nuits Musicales d'Uzès is the Festival's second most important partner after the Town of Uzès and before the Occitanie Region. In 2018, the association had 177 members for the Festival's 48th edition.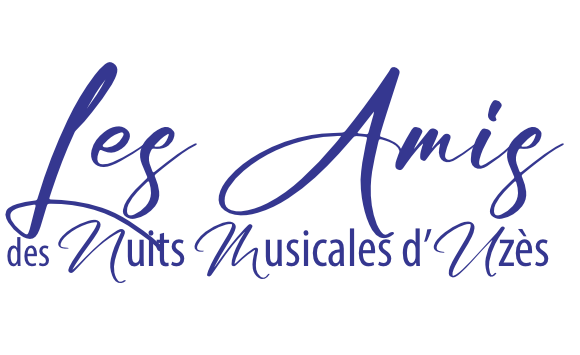 Chairwoman: Ms Chantal Brasseur
Vice-Chairman: Mr Mike Sutton
Treasurer: Mr Patrick Farines
Why join?
Without the patronage of the Amis des Nuits Musicales d'Uzès, it would not be possible to invite artists such as Patricia Petibon, Laurence Equilbey, Philippe Jaroussky, Renaud Capuçon to play at the Nuits Musicales.
Your support also enables us to:
-Create an impressive, varied programme that brings together acclaimed international artists and young talent, including both classical and contemporary music. A wonderful array of music from baroque to jazz, from intimate chamber music to full choirs and orchestras,
-Encourage musical education by offering grants to promising young musicians who attend the Master Classes held by the Nuits Musicales d'Uzès Baroque Academy,
-Maintain the Festival's high-standards as part of the unique heritage and architecture of Uzès, an internationally-renowned town of Art and History with 9,000 inhabitants.
Membership and benefits
There are various types of membership
As a member to the association Les Amis des Nuits Musicales d'Uzès, you will enjoy the following benefits.
Single membership
Duo membership
Benefactor
Sponsor
Patron
Subscription

40

€

60

€

From


100

€

From


400

€

From


1,000

€

Benefits
Priority seat selection for individual tickets and subscriptions

✔

✔

✔

✔

✔

Complimentary programme for each concert evening

✔

✔

✔

✔

✔

Invitation to attend the Academy Master Classes

✔

✔

✔

✔

✔

Tax deduction *

?

✔

✔

Your name mentioned in the programmes *

✔

✔

✔

✔

✔

Total
Subscription
40€
60€
100€
400€
1,000€
Amount after tax deduction
indicative amount, from

34€

136€

340€

Subscribe
Subscribe
Subscribe
Subscribe
Subscribe
* 66% tax exemption. Benefactor subscriptions, donations and patronage will receive a tax receipt that allows you to deduct 66% of payments from any income tax paid in France, limited to 20% of taxable income.
---
** Unless otherwise specified by you, your name will appear in the member's list of the association Les Amis des Nuits Musicales d'Uzès printed in the concert programmes.